Karuna Sanskar Vidhyapeeth
Vision
The ultimate goal is build characters and build societies, as a progressive society would be measured in its achievements in culture rather than it's economic progress.
Objective
Changing from "How can we improve education?" to "How can we ensure learning for all?"
Ensuring that the professionals who work in our center are learning process and corelating with the students' mindsets.
Responding to specific community needs or special projects.
Promotion of performing and fine arts for holistic development.
Karuna Sanskaar Vidyapeeth, "Karuna Education" is promoted by Karunamai Ma Charitable Trust.
Karuna Education began its initiative in 2010 and is supported by volunteered and paid teachers. Over 100 students have been enrolled till date.
27 scholarship have been awarded to needbased students for academic and non-academic pursuits.
"Education Stops... Progress Stops..." Ammaji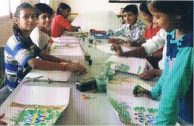 The idea is to ensure learning for alland the professionals who work in our center are given regular training and how it varies from student to student and are able to respond to specific community needs or special projects.
Karuna Education has the facilities of lecture rooms, study center, library, recreational/sports facilities and stage for outdoor performances. The library has more than 1000+ books for all age groups. These facilitates have promoted experiential learning, focusing largely on developing of creative minds instead of traditional practices.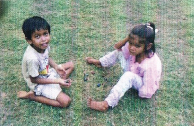 Coaching classes are help regularly and learning assistance is provided every day for primary and secondary students in Sanskrit, Hindi, Mathematics, English and Science.
In addition vocational training is provided and courses are held for imparting skils in the multifarious field - culinary arts, gardening, housekeeping, computer applications, bookkeeping, secretaril.
Karuna Education also seeks to focus on women empowerment and education and development of children (special emphasis on children with special needs).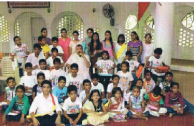 We sponsor special vocational training programs for women seeking financial independence.
We have also emphasized on enhancing reading & writing skills by providing age appropriate bilingual books and conducting story telling sessions.
Handwriting practice on a one-on-one basis and calligraphy and cursive writing is encouraged.
We also organize summer camps every year for children and ensure to deliver best learning modes during the period. So far, we have promoted English speaking & conversational skills emphasizing on the diction and pronunciation, organized quiz session on general knowledge, regular updates on the subjective areas, creative writing and storytelling sessions.
We also encourage extra-cuuicular activities like field visits such as taking the children to the zoo, science museum, music & dance performances by famouse artists.
We provide a platform for children to perform at public places such as Akashwani Bhawan, Rajghat Auditorium and Taj Utsav. Children have also visited the Rashtrpati Bhawan.
Emphasis on promting performing and fine arts for holistic development. Creative and performing arts including vocal & instrumental Indian classical music, Indian classical dances, drama, art & craft.
Karuna Education envisions to motivate and prepare students to appear for competitive exams such as civil/allied state services etc.
Karuna Sanskaar Vidyapeeth, 'Karuna Education' seeks to partner with schools to make them more inclusive, train in-house teachers on how to teach the diverse learners within the classroom, create community awareness with special emphasis on encouraging projects. Sponsoring childern's school fees and books are features.
Karuna Education focused on tailored education programs for children including children with learning disabilities, providing trustworthy information and guidance to parents and sponsoring students from financially underprivileged families.
Initiaves promoting awareness among people on learning disabilities as well as education for children with special needs are also undertaken. Physiotherapy andoccupational therapy are also part of similar initiative.
In addition, Karuna Education has been involved in women empowerment activities too. We assist to provide sustainable livelihood opportunities to women from surrounding villages. Over the years, many women have been provided with full-time/ part-time employment.
You can donate either one time or make monthly contribution for the following categories:-
Recruitment of professionals, who can identify and promote best teaching practices.
Study material for coaching classes.
School fees for children and after-school learning.
Fees for vocational training in different fields.
Sponsorship for children with special needs.
Sponsor for women empowerment activities.
All donations made to Karunamai Ma Charitable Trust are eligible for tax exemption under sections 80G of the Income Tax Act.