Shree Karunamai Ma Shakti Peeth
Karuna Care Foundation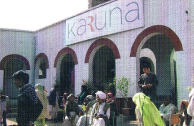 Karuna Care Foundation, 'Karuna', supprted by the Karunmai Ma Charitable Trust, is an organization with extesive experience in building and implementing social welfare, healthcare and education related projects.
Primary objective of Karuna Care Foundation, is to create access to affordable, quality healthcare for people living in semi-urban & raral India focusing equally on both preventive & curative aspects.
Eye Camps were started in 1992 under the aegis of Shree Karunamai Maa Peeth in Sohna. Since the Centre has been estiblished in 2011, the services offered have grown to include medicine, gynecology, dental, pediatrics, diabetes and cardiovascularailment awareness, providing various diagnostic facilities, plus alternative medicines such as homeopathy and acupuncture.
Healthcare Centre of Karuna, caters to over 200 villages and semi-urban colonies with over 1,00,000 households. A significant proportion of our patient base comprises of people living in these areas owing to easy accessibility.
More importantly. we concentrate equally on both Preventive & Curative aspects of healthcare. While actively engaging our target communities & ensuring complete transparency for partients and sponsors.
Karuna Sanskar VidyaPeeth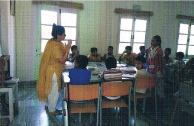 Karuna Sanskaar Vidyapeeth, 'Karuna Education' seeks to partner with schools to make them more inclusive, train in-house teachers on how to teach the diverse learners within the classroom, create a resource room, promote research and create community awareness with special emphasis on encouraging projects. Sponsoring children's school fees and books are regular features.
Karuna Education focuses on tailored education programs for children including children with learning disabilities, providing trustworthy information and guidance to parents and sponsoring students from financially underprivileged families. Initiatives promoting awareness among people on learning disabilities as well as education for children with special needs are also undertaken.
Over 100 students have been enrolled till date and 27 scholarships have been awarded to need-based students for academic and non-academic pursuits.
Karuna School of Creative and Performing Arts
Karuna School of Creative and Performing Arts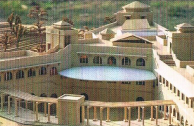 Karuna School of Creative and Performing Arts, 'Creative Centre' emphasizes promoting performing and fine arts for holistic development. Creative and performing arts including vocal & instrumental Indian classical music, Indian classical dances, drama, art & craft.
We believe that the rounded development of a child is only possible, when a studentdoes both studies and extra-curricular activities.
Ammaji's Samadhi Sthal
Ammaji's Samadhi Sthal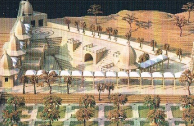 Ammaji's Samadhi comprises of 6 temples, kund ghat and Ammaji's Bagaiya. The underlined theme of the Samadhi Sthal is a synerge between the five basic elements-earth, water, fire, air, space.
Karuna meaning 'compassion' is built on the sole focus of love - Love of God represented in all its manifestions and love has only one meaning 'Tyag' i.e. sacrifice which is true bhakti. Shree Karunamai Maa Shakti Peeth, Sohna is set up under the aegis of Karunamai Ma Charitable Trust, by Shree Karunamai Maa fondly known as 'Ammaji' in 1988.
It is a hub of spiritual, cultural and social welfare activities and has been involved in building and implementing welfare programs for the surrounding community.
The Ashram is a 'home away from home' for thousands of devotees from across India and the world. The love and respect for Ammaji and her disciple, Shree Nandbaba, is a hallmark of the lives of prople from all strata of Inida society.
While spiritual activities are focused upon, the charitable aspect is also emphasized by way of social welfare programs. Health, educational and other cultural activities are also encouraged within its fold. Karuna Care Foundation, Karuna Sanskaar Vidyapeeth and Karuna School of Creative and Performing Arts are the pillars of the trust with Ammaji's Samadhi Sthal providing the divine touch to all.
You can donate either one time or make monthly contribution for the following categories:
Donations for Karuna Care Foundation.
Donations for Karuna Sanskaar Vidyapeeth.
Donations for construction of Karuna School of Creative and Performing Arts.
Donations for Ammaji's Samadhi Sthal - nirman of six temples, kund, ghat and Ammaji's Bagaiya.
All donations made to Karunamai Ma Charitable Trust are eligible for tax exemption under sections 80G of the Income Tax Act.